Savannahkhet – Thakhék
18th April 2014       145km       34'C
What a day!  I had planned to wake up early to sort out the flat front tyre before it got too hot, so after a quick breakfast of a baguette with fried rice, as a strange sort of Asian-French fusion sandwich (my creation from the edible options available), I got to work figuring out if this flat was just a slow leak from the valve, or a real puncture in the tube.
It turned out to be the latter, and so I balanced the bike on a retaining wall and removed the front wheel.
After pulling everything apart, and mixing up some of the hotel shampoo and water in a bottle, I located a small piece of wire that had pierced through the tyre and into the tube.
Since I was in the town of Savannahkhet, I figured I'd get the tube 'vulcanised', rather than use the only spare tube I have, saving that for later. The guy at the tyre shop had an Aussie shirt, which was nice, and charged me $1.50 to patch the tube with his home-made iron.
I popped the tube back into the tyre, and a short tuktuk ride to the hotel, assembled all the bits and was on my way in short order.
In Laos, it is mandatory to purchase motorcycle insurance before riding in the country.  It is something the Lao authorities take very seriously, and I had heard stories of other motorcyclists being temporarily jailed for not having at least third-party insurance.   The problem I had was that normally there is a hut at the border where you can buy this insurance, but the border I crossed at was a very small quiet place and there was no insurance shop to be found.  I even asked the officials at the border, they didn't know where to get it, so I headed off hoping to pick it the required insurance in a larger town, like Savannahkhet now.
I had spotted an insurance office the night before, about 1km away, so headed there.  The lady in the AGL office was a bit surprised to see me.  When I told her I wanted to buy insurance, she called 4 other people on the phone for advice and I waited about for 30 minutes before she said "sorry, I can't sell you insurance unless you have a carnet"    Ahhh, the carnet problem raised its head again.   So I moved on again, hoping to stay out of trouble with the cops.
The road was again quiet and traffic light, and I made it to Thakhek around midday, as it was starting to heat up.  Spotting a sign that said "Buy Insurance here" I pulled in and asked the girls in the booth if I could buy insurance.  "No, no insurance here" was the answer.  I showed her the sign, and then she relented "OK, go to next building, upstairs"    I had a feeling this was all going to be a waste of time.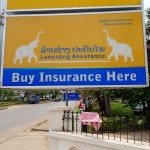 Walking upstairs I was greeted by 12 pairs of eyes, all sitting at their desks.  No-one appeared to be doing anything, other than staring into space or their mobile phones.  I asked the first girl closest to me "Can I buy insurance for moto?"   She directed me to a very nice young man called Pon, who said he wasn't sure about motorbike insurance, he only knew about cars.  But he made a quick call, and confirmed, yes he could issue me a policy for 1 month.  He swiftly prepared the documents and gave me the quote.  Total cost: 40,000 kip, about $6
He was a really nice guy, and I asked if I could snap a photo of everyone in the office.
With that administrative task resolved, I got back on the bike and moving again.   My plan was to make it to the city of Pakxan or maybe even Vientiane for the night, still 340 kilometres from here, so I really needed to get moving after using up alot of time on the tyre and insurance this morning.
On the way out of town, I spotted this monument and turned into the carpark to snap a quick photo.  I didn't even turn off the bike, shooting from the saddle, but as I put the camera back in the tank bag, I was approached by a young lady who had broken away from a group of about 35 people, who were having a party under the trees.
She moved quickly, I'd only been stopped there for about 20 seconds, and she'd made it across the carpark to greet me.
"Hello!  We are having a party, and my boss would like it if you would join us.  We have beer and karaoke and food.  Will you come?"
How could I decline an offer like that!?     I explained, "I still have a long way to ride today, but sure, I'd love to join your party for a while"
So I parked the bike, and as I got out of my gear I received the first dousing, with two buckets of icy cold water!   Chunks of ice ending up down my shirt and in my pants.  It was a icy cool-down from the sweltering temperatures.   I was then introduced to the party guests, of which 4 spoke English, very well.    It turned out it was yet another Lao New Year celebration, hosted by the Director of Information and tourism for the region.
Only a few minutes earlier I'd been thinking how Lao people were quite reserved, a bit cold and not particularly friendly, this especially noticeable when compared to Cambodia.  In the villages, I found Lao people to view me with apprehension & caution.  Even when greeting people with a smile and a "Sabai-dee" (hello)    Often I would not even get a response, just stares from a safe distance.   This was a huge change from my time in Cambodia where saying hello, in Cambodian, with a smile would have everyone smiling back and screaming "HELLO!"
But now, here I was a recipient of a random invitation to a Lao party with a glass of Beerlao in one hand, and a bbq beef rib in the other!
It was about 2pm, and apparently the party had started at 9am, and everyone was happy.  Some of the karaoke was genuinely good, especially the duet by a couple with a Vietnamese hat. After a few more buckets of ice water were poured over me, there was a bit more karaoke and then some Lao dancing.  It seemed all the ladies wanted a dance with the funny 'barang' and numerous photos.   One lovely lady was convinced that I should be her son-in-law, and told me I must stay at the party until her daughter arrived.   More beer, more singing, more dancing.  It was an absolute hoot.   The ground was soaked with beer and water, as was I, and soon enough one leg of the chair I was sitting on, sunk into the mud, gave way and dumped me onto the soggy ground.  I managed to not spill a drop of my beer to much laughter from everyone.
After another round of dancing, and more beer toasts where the toaster would mandate how much of the glass you had to down. Usually it would be either 50% or 100%, more often 100%.   Everyone was impressed with my ability to not get drunk.  I gave thanks for all that training in Singapore.
I had resigned myself to the fact that I wasn't going to be riding anywhere further today.  I'd need to find a hotel here in Thakhek tonight.   Everyone wanted more photos with the crazy foreigner, and in the rush for more photos, I was accidentally donked on the head with an ice bucket by this lady, scoring me a nice cut to the bridge of the nose. The bucket-swinging lady was very, very apologetic.  It was only a superficial cut, ice and tissues were applied and more laughter all around.
I could not believe how my day had started out, and how it was ending up.
Shortly the lady who had hoped she'd be my mother-in-law, had her daughter appear, and introductions took place.  She was genuinely attractive and mother set her to her task.   Thankfully she swiftly told me she was 20 years old, and then asked how old I was.  I rounded up, and told her 40.  It seemed that quickly solved that problem. I was too old! Everyone got back to drinking and merry making.
At 4:30pm I noticed one of the hosts opened a number of extra beers and placed them on the table.  At 5pm sharp, the band packed up, and I was told we couldn't leave until all the open beer was finished.  Aha.  Now I understood.   I helped with finishing the beer and then said goodbye to everyone, as everyone departed.
I headed the 3km back into town and found a hotel to crash out in.
What a day of Lao hospitality and generosity.  I was genuinely overwhelmed with how I had been welcomed into a local party, on sight.