Kilkenny – Adare
31st October 2014          10-13℃         147km
Kilkenny – Adare
I set out from Kilkenny in the pouring rain, and it wasn't long before I was completely soaked through.   I had decided to take the many small backroads and lanes between Kilkenny and Adare, and the result was weaving along narrow country lanes, drenched in mist and rain as I weaved along between the narrow hedges.   Of course it was alot of fun, despite a few slippery moments riding through cow shit and silage runoff, the later being so corrosive that it stripped the paint off the bashplate on the bike.
I was starting to become very cold when I neared the town of Cashel, and I stopped at a pub that had outdoor seating with radiant heaters. On removing my gloves, I was able to pour water from them.  My core was only just dry, but water had seeped in around my waist, sneeking up my shirt and of course up my arms.  I was now sitting uncomfortably in a small puddle.   But I was able to order some food and sitting out in the rain enjoyed my warm meal as the locals walked by giving me strange looks from under their umbrellas.
I finished my meal and rode out of town, passing the Rock of Cashel on the way and stopping for a brief photo.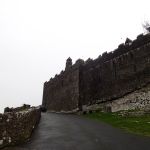 As I reached the village of Adare, it was approaching dusk, the traffic was heavy and it continued to rain.  For some strange reason I had imagined riding into the village of my Grandfathers birth in the early morning, the sun shining and little other traffic. It could not have been any more different to what I had envisaged.
Despite the dark & rain, after 7 months and 42,000km it feels fantastic to finally reach my goal and destination, Adare.  And as I approached Graige Farm, the sky cleared momentarily, and a beautiful sunset appeared.