Ashgabat – Mashhad (Iran)
20th August 2014        37'C       294km
Ashgabat – Mashhad (Iran)
I'd been advised to head to the Turkmenistan-Iranian border early today, principally for two reasons.
Firstly, my Turkmenistan exit permit had been marked in my visa as "Saraks border" when I actually needed to exit at Bajgagan border.  Secondly, being early is always a good idea as often these things take all day.
I reached the first Turkmenistan police check. My passport and bike paperwork were checked.  The young soldiers were jumpy and nervous, yelling at me to move here, move there, don't stand there, stand here, etc. But the sergeant was polite and professional.  He told me to wait 10 minutes, while he kept my passport.  10 minutes later a motorcade drove through, and all the soldiers stood to attention and saluted.  I knew now why I was told to wait.
The sergeant told me to go ahead of all the other people waiting, and screamed at one of the young soldiers to hold the gate open for me.  When he let the gate go, and it crashed into my panniers, the sergeant gave him a massive spray, screaming something at him.
I rode on up the mountain to the actual border, where more soldiers pointed me in different directions, confusingly.
In the end I just stopped where I was, got off and walked. Customs took my bike paperwork, then a soldier escorted me to immigration.  The immigration guy looked at my visa and shook his head repeatedly. I thought I might be in trouble, but after a few minutes it was stamped with the exit pass for Turkmenistan.  I was lead back to customs office one, where I signed the bike out of the country.  Then I was sent to another customs office, where I had no idea what was going on.  They were asking for some customs paper that I didn't have.  They asked over and over, with me telling them I had already given them everything.  Then suddenly, the guy changed his mind and said, "ok, you can go".  And with that, I rode to the final passport check.  Two meters later, I was standing in Iran, looking back into Turkmenistan and was greeted with "Welcome to Iran! Passport please!"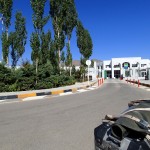 I handed my passport over, and the soldier said I should go to the building, he would bring the passport to me later.  In the immigration building, it looked like chaos to me.  Every 10 minutes the solider would bring a bundle of passports in, and put them on the desk of the immigration guy.  He would shuffle them about, and pick one out to process.  Once he had finished, he would call the person's name, and they would go to collect their stamped passport.  There seemed to be no order to the system.
When he tried to call my name, it was too difficult and he just called out "Australia!".  It had been about 40 minutes.
With immigration complete, I found my fixer, Javad, who would be sorting out the bike import for me.  He took all my documentation, and proceeded to fill in forms, staple documents and deal with the customs staff.
He said it would take about 2hrs, so I went and had a nap, laying my jacket on the ground next to the bike in the driveway.
2hrs later, after having many photos taken with the customs manager and his friends, they came to tell me the import was complete, but the insurance was not ready, as the Internet was down.  20 minutes more, I was told. 40 minutes came and went, so I had another sleep on the bike until two boys woke me up for a photo.
Finally, at 3pm, after 5hrs waiting, I was told my paperwork was complete.
In fairness, while it was a long wait, it wasn't that bad, as the border and customs guys were all relaxed and friendly.
I waved all the staff goodbye with a few more photos, and was let loose onto Iran's roads.
I made a last minute decision to head to Marshad, the holiest city in Iran. Traffic in the city was absolute madness, and I had a few close shaves with taxis and other motorbikes that would either be riding up the wrong side of the freeway, or reversing at speed wildly.
The city was packed with pilgrims, all headed en-mass to the shrine. I walked with the crowd, being swept up by the thousands of bodies.
Later, as I walked back to the hotel, I stopped to buy some fruit. The owner of the store asked me where I was from, and what did I think of Iran. I told him Iran was good. He asked me what I thought of America, to which I answered "so so". He asked these questions, absolutely seriously, three times, and I repeated my answers. After the final answer to the America question, he broke into a smile and gave me a big hug, and said "Good!"
A very interesting evening.   Welcome to Iran.