Rila – Sofia
20th September 2014      15-22℃       123km
Rila – Sofia
A relatively easy ride towards Sofia, although the occasional sand on sharp bends made for some hair-raising moments as I slipped around corners.
Traffic to the south, in the opposite direction to me was very heavy, with Sofia residents heading into the mountains for the weekend. Along with many, many bikes, and I essentially rode with one hand for 30 minutes, returning waves to other riders with my left hand.
On arriving in Sofia, the GPS was playing up, and I stopped to get bearings and search for a hotel with my phone.  I stopped on the street, outside a shop and sat on the bike with the side-stand down while searching on the phone.  With my phone in my hands, when the bike started to topple over to the right, I was unable to save it, apart from slowing its fall using my thighs.  I managed to let it down gently, as the staff standing in front of the store, smiled, as the contents of my tank bag, including two cameras, spilt out onto the road.    A very silly drop.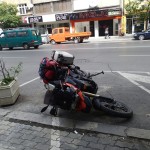 I lifted it back up with the help of a guy who was passing, and located a hotel nearby, dropped off my stuff and headed out on foot to explore Sofia.