Kapshagay
20st July 2014
Almaty – Kapshagay – Almaty           36'C        0km by bike
After just a few hours sleep, Oscar and Viktoriya reappeared in the lobby of my hotel, ready for us to spend the day at Lake Kapshagay.  The lake was formed in the 1960's when a dam was built to form a water reservoir.   Viktoriya drove as she had business to attend to at the resort, so Oscar and I drank beers on the beach, feet in the hot sand, and looking across at the snow-capped mountains.
While we had been drinking beer, Viktoriya had somehow managed to get an upgrade to our access at the resort. We had previously been relegated to the sand, but with our new armbands we now had access to the pool and bar, and relocated ourselves to enjoy an afternoon of swimming, fooling around, eating and relaxing in the shade.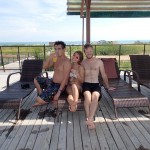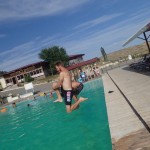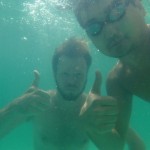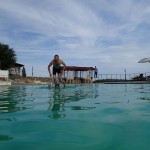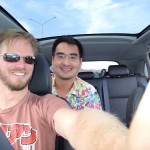 With the sun going down, we headed back into the traffic, it seemed like the entire population of Almaty had spent the day at Kapshagay, the traffic was horrendous, heavy dust and cars getting bogged in the sand as they tried to shortcut around one another.
We stopped by the roadside for what Viktoriya advised was "the best shashlik in all Almaty.  I have to say I agreed, it was pretty damn good. Thin peices of lamb meat, not too much fat, and grilled over charcoal.  Finished off with a small dousing of spicy vinegar.
We arrived back in the city late, sunburnt but after a great day in the sun.