Almaty
21st July 2014           36'C         0km by bike
Almaty
I got up early and prepared the bike to go out to collect my passport from the Tajikistan embassy.  On the way there, I did something stupid and made an illegal left turn, right in front of a police car.  Within a few seconds I was pulled over, just 50M from the Tajik embassy.   Immediately the request came "Documenty!" from the younger of the two cops.
I tried to explain that I was actually just going to collect my passport, so I didn't have it, but the police could come with me to get it from the embassy, but their either didn't understand or didn't want to.   We spent a few tense minutes trying to communicate before the older cop called someone on his mobile, and handed the phone to me.   The message was clear, I had been riding on a road that bikes are prohibited on, I didn't have ID (the photocopied passport wasn't sufficient), and I'd left the bike documents in the safe at the hotel.  The guy on the end of the phone explained that this was serious, and I would be taken to the police station and the bike impounded.
I was now starting to become a bit concerned about all this.   He hung up and the older cop started filling in paperwork.  After a few minutes, he called the English speaking guy back again and handed me the phone.  He re-explained my offences, and I apologies profusely again.   Finally I asked him delicately, if there was a way to resolve this matter, perhaps by my paying a penalty.   He said yes, but I needed to discuss it with the cops.
So I sat in the car, and a napkin was written on with the opening gambit, of USD$500.  I told the cop I didn't have anywhere near that much, and pulled out everything I had, 2500 tenge, about $15.  They looked offended, but I apologised again and finally they accepted it and told me to get out of there, not telling anyone about this.
I rode up to the embassy, where my passport was ready and collected my Tajik visa and GBAO permit, allowing me to ride the 4655M pass of the Pamir Highway.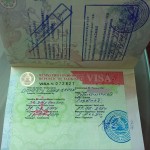 Back at the hotel after a stressful morning, Oscar and Iska were waiting with a car.  We took a drive up into the mountains to admire the view over Almaty. We stopped at a nice homely place for lunch, where we feasted on Kazakhstan's national dish, Beshbarmak.  Sort of like a pasta dish, with large chunks of horse meat.  We drank kummis (mares milk) and camel milk.  It was a veritable feast.  And we discussed Kazakh history and politics while resting among the trees.