Bishkek
28th July 2014           24'C         Approx 12km by foot
Bishkek (Visas, Visas)
I was up and ready to head to the Iranian embassy early.  Anxious to apply for my visa to visit Iran, I had overlooked that it was now Eid, the end of ramadan, and the embassy would likely be closed.   As I approached the security guard, I expected him to wave me away, but he smiled and pointed me down the lane to the door for the consular office.  Smiling with relief that they were open, inside I was greeted with a warm smile.  Explaining that I would like to apply for a visa.   My name was checked against the list of pre-approved applications, and I was given the ok to proceed with filling in the forms.   I had submitted my request for authorisation to visit Iran, over one month ago, when I was in Ulan Baatar.  I'm glad I had done so and everything worked out.
I was given a slip of paper, and told to go to the National Bank of Pakistan to make the payment of 100 euro.  I was also advised that they would need a copy of my insurance policys.   I walked the 2km to the bank, only to find that it was closed, I assumed it was still too early, so I walked to an office supplies shop where I was able to print my insurance documents.  Returning to the bank, I found it was still closed, and after a discussion with the security guard, using my rudimentary grasp of Russian, determined that the bank was closed for the next 3 days!
So I walked to a money changer, and changed a fistful of som into 100 euro, and hoped that maybe the embassy could be convinced to take cash. This would be highly unlikely, but my only other alternative was to wait for three days for the bank to reopen.
I walked back to the embassy and trying to be as charming as I could, I explained that the bank was closed, and would it be possible to make a special exception for me on this occasion, and let me pay cash? The girl at the desk went to check with the consul, and came back confirming this could be done. Score!
I then asked how long the visa would take to issue… The answer, three days, as they were closed tomorrow for Eid celebrations. So back to square one. I asked was there any way the visa could be issued urgently? She went away to consult the consul again, and came back saying yes, the visa could be issued today, with an additional payment of 50 euro. She tried to dissuade me from doing this, but I couldn't afford to lose three travel days. I ran back to the money changer, and changed more som for the 50 euros, and ran back to the embassy, now sweaty.
I was told to come back in three hours, as they now closed for lunch. I walked back to my apartment, and waited until 2:45pm. At 2:58pm I was back at the door to the embassy, and was let in at 3pm exactly. My passport was ready, visa installed on one of the remaining blank pages. Ecstatic, I asked the girl take my photo before I thanked her profusely and wished her a fabulous Eid celebration.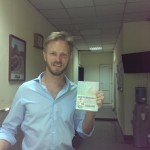 One visa down, only two more to go to be able to complete the journey to Ireland. Uzbekistan & the dreaded Turkmenistan transit visa, which is shaping up to be the hardest visa to obtain, and only with 3 days validity!
I returned to the hotel, showered off the sweat and dust from running around town on foot all day, and made plans to meet Valera, Julia & Dima for dinner. Viktoriya, the Almaty local and now friend who had setup my interview with TengriNews in Kazakhstan, had called her friend Valera and asked him to meet me in Bishkek. We headed out to dinner to a North Korean restaurant. The Korean community in both Kazakhstan & Kyrgyzstan is larger than I expected. Valera and his friends, all third generation Korean immigrants; their families had moved to central Asia during a wave of migration spawned by famine in North Korea decades ago. Initially deposited in Vladivostok, families were distributed out to the the far reaches of the Soviet empire, as it existed at that time. They made their homes here in their new country.
We feasted on a huge array of dishes, the flavors very different to south Korean cuisine, and very enjoyable. As I was still fighting a cold, a special dish and procedure was prescribed to cure me. First a hearty soup, heavy with garlic and onion, followed by a shot of vodka and then a dog stew.
Yes, it was delicious.
The heat of the soup, vodka and stew, were all supposed to rectify my cold, and it certainly seemed to help. I felt much better in the morning, although not completely clear yet.