Matrei – Zell am See
7th October 2014        2-15℃          264km
Matrei – Zell am See
It is always nice to stay in a family home, especially in Austria/Germany. Breakfast is served at the usual family table, with coffee, newspapers and generally quiet conversation.  It's a nice way to start the day.
After packing the bike, I headed back towards Lienz, and then up the magnificent Großglockner road.
As a designated 'tourist' road, it has a toll, €24 for bikes!  Ouch.  My €24 Euro giving me a day-permit to ride the road.
It was still very misty, and I took my time heading up to the top, on Austria's highest road.  At the peak, it was a chilly 2℃, and the cloud obscured almost all the view, so I stopped for a coffee and cake, hoping it would clear.  It didn't.   So I rode down the other side and enjoyed it so much, I decided to do the whole thing again.  I turned around and rode back over the mountain, absolutely fanging it where it was appropriate to do so.  Super tight hairpin bends, I finally managed to get the bike properly leaned over.  It was an absolute blast.
On the way back down from one of the side roads, there was another rider in front of me on a R1200.  At one of the very tight bends, she came to a stop when she saw an oncoming car, and with the ground too far away to put a foot down, she toppled over, the bike ontop of her.
The road was so steep there was no way I could stop where I was, so I hooked a uturn and parked on the other side of the road, and ran over to help her lift the bike.  By this time she'd wiggled out from under the machine. We got it back up on two wheels and she remounted to head back down the hill.  Fortunately only some broken plastic, and hurt pride the damage.
I blasted back down the mountain, with a few photo stops and into the town of Zell am See, where I located a campsite right beside the lake.  And after setting up my nylon hotel for the night, I headed for dinner at a nearby restaurant.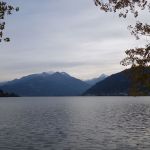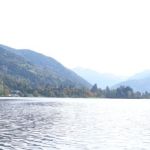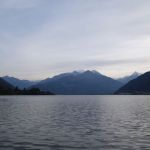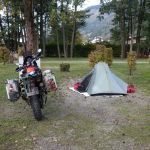 A good day riding.  I'm pretty sure I need a new set of brake pads now, and I know I definitely need a new front tyre, which has been ordered for delivery to Nicholas' house on Munich so I should be able to install that later in the week.