A mammoth day in the saddle today, 450km of dirt on the Oodnadatta track, from Marla, to Oodnadatta and camp in William Creek.
The road was generally in really good condition, fast and smooth dirt.

Although some stoney sections, and alot of red gibber plains were passed through today.
There was some deep sand at the creek crossings, and I really don't like sand. I've figured that it needs to be taken at about 40kmh, keeping momentum and try to steer straight though. Although if I get thrown sideways then I inevitatably slow and stop, then it is an effort to push the bike out of the bog sand. Not much fun in the heat.

I took a sidetrip to Peake Hill & ruins, which was 30km of very rough singletrack, very remote. The signs said to be careful, as no one would pass that way. It was true too.
For the entire day of 450km I didn't see another vehicle.
On arrival at William Creek, they were a bit critical in the pub, saying I shouldn't be travelling alone this time of year, etc etc
Otherwise the publican was friendly enough and nothing more was said of this once I sat down and ordered beer and food. The lamb cutlets were good.
Now ensconsed in tent, although the ground is still radiating heat through my sleeping mat. It is very warm to touch the floor of the tent, even at 10pm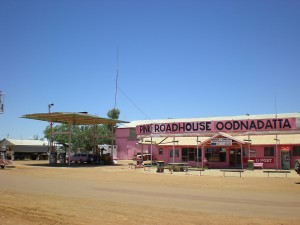 No comments