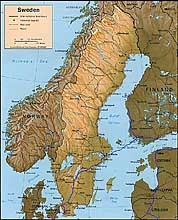 12th September 1997
Huskvarna/Stockholm, Sweden 2200
So after catching the boat from København to Malmo, I hitched a ride with an American pilot; and after 3 more rides I ended up in Huskvarna.
I couldn't find a bed so I rolled up on a park bench for the night and drifted off to sleep.
I had only been asleep about an hour when it started to rain, so I had to pack up my things and I moved under a kebab stand and slept until 6am in the cold.
It got down to 6ºC last night.
This morning I hitched a ride with a truck driver about half the way to Stockholm and from there I caught a bus the rest of the way.
| | |
| --- | --- |
| | |
14th September 1997
Stockholm, Sweden 0100
Today I travelled around Stockholm with three other travellers I met at the hostel. Elaine from Scotland, and Cody and Randolf from the U.S. We saw some of the sights and walked a fair distance. At one point it began dumping rain on us and as we were out in the open with no shelter we made a run for cover under a bridge, but by the time we got there we were well and truly soaked. Later it became sunny and hot, then it turned bitterly cold, then windy, it was really four seasons in one day!
So after we got back to the hostel we warmed up by taking a sauna. Just fantastic! What better way to relax after being frozen solid by the Arctic winds than to climb into a steaming hot Swedish sauna and rejuvenate ones body & mind.

The architecture of Stockholm is great, the air and water so amazing clean for a large city.

It is really beautiful.
14th September 1997
Stockholm, Sweden 2300
Today we saw some more of Stockholm including 'The Vasa' a ship which sank on her maiden voyage and was recovered intact after 333 years on the sea floor! Simply amazing!
So onto Finland next...

Board the M/S Amorella for the overnight crossing to Finland with me


This site and its contents are © Copyright 1998, 1999 Luke Doherty, After Dark WebDesign.
It may not be reproduced in total or in part without the written permission of the author.