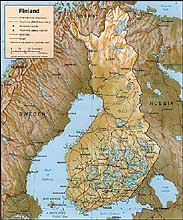 14th September 1997
Middle of the Baltic Sea??? 2300
Well I am now sitting on the M/S Amorella on my way to Turku, Finland. An 11 hour trip away. The boat is HUGE! Today we saw some more sights of Stockholm including the Vasa, ship which sank on it's maiden voyage and was only just recovered, 333 years after it sank, in almost perfect condition!
So now I sit on this boat, the M/S Amorella, with a bottle of duty free vodka and a Toblerone, waiting for dawn in Finland.
P.S. It's cold!
15th September 1997
Turku, Finland 2200
I survived the boat journey of 11 hours with the company of a Finnish girl by the name of Ann-Sofie. We stayed up all night and danced in one of the onboard nightclubs and generally fooled about, which made the trip much shorter. As dawn broke and we were moving into Turku harbour we thought we would take a photo up on the outside deck, using the camera timer so we could both get into the shot.
I set up the camera on a chair and pressed the self-timer button before racing across the wet & slippery deck to join Ann-Sofie in the picture.
Not surprisingly, I slipped! Landing flat on my back at Ann-Sofie's feet on the icy deck! In my winded state I noticed the flash going off as I laid there, Ann-Sofie bending over me saying, (though her laughter!) "Are you dead?"
It was a very humorous beginning to my stay in Finland!

I eventually got up after regaining my breath and we tried again to take the photo, this time successfully!
| | |
| --- | --- |
| | |
17th September 1997
Kristianstad/Helsinki 2345
So I spent two days in Turku and had dinner with Laura one night. Yesterday I caught a bus north about 300Km to Kristianstad. I stayed there with Ann-Sofie and we looked around her home town, which I found fascinating.
It is so old and

quaint, really a small village. The church built years ago from timber was very interesting.
We also visited the smallest street in Finland!
So today we drove back to Turku with Ann-Sofie's parents and from there I caught a bus to Helsinki.
I love the country atmosphere of Finland. The air is very fresh & clean and the forests are huge. Combined with the sky and clouds which are breathtakingly beautiful, it is a gorgeous sight.
It is peculiar that only 5-6% of the population of Finland speak Swedish, but all the road signs are in both languages.
The people are quiet reserved but very friendly and it would seem to me that public expressions of feelings in Finland is not really normal or acceptable, so hugging and kissing hello's, even with family are reserved.
This seems to frustrate Ann-Sofie, who wants to move elsewhere, perhaps Sweden.
But to me it is a great country.
Board another ferry to Tallinn, Estonia with me

This site and its contents are © Copyright 1998, 1999 Luke Doherty, After Dark WebDesign.
It may not be reproduced in total or in part without the written permission of the author.