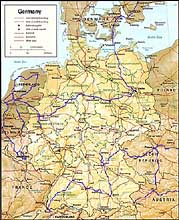 4th September 1997
Düsseldorf, Germany 1100
Yesterday I hitch-hiked from Amersfort in The Netherlands, to Düsseldorf. It took me four different rides to get here, one of which spoke no English, so figuring out where to go was a small problem. Nevertheless, the last guy that picked me up, dropped me off at the door of the hostel! And so last night I met up with Wiebke and we went for a few beers and a short tour around the old town of Düsseldorf, which was fantastic and heaps of fun.
Düsseldorf is located on the Rhine River, which is absolutely huge and very fast flowing with seemingly infinite numbers of boats travelling all the time. Therefore there are some great bridges, but given their size they take forever to cross on foot!

| | |
| --- | --- |
| | |

6th September 1997
Köln/Düsseldorf, Germany 0100
Last night Wiebke, Caro & I went to a pub in Essen which turned into getting home at 4am! So today I got up late and caught a train to Köln and saw the amazing Dom, which some how escaped damage in WWII whilst everything around it was destroyed. Tonight Wiebke and I went to another pub on the Rhine and had a quiet night.
7th September 1997
Berlin, Germany 0100
Today I hitch-hiked from Düsseldorf to Berlin. It took me six different rides and nine hours to travel the 550Kms. Two of the drivers I hitched with didn't speak any English.
So tonight I went to a nightclub called 'Big Eden' which was OK, but nothing spectacular. I had heard that the clubs in Berlin were excellent... perhaps they are all underground and I'm obviously not in touch with 'the scene'.
7th September 1997
Berlin, Germany 2350
Wow! Berlin is amazing. I started the day by climbing the TV tower in former East Berlin. This tower was used to send propaganda to the west side of Berlin. Today it offers a great view over the city of Berlin.
I also visited the World Time Clock which was built in 1969, then on to see the 'Rotes Rathaus', the centre of Berlin government. From here I walked to the golden facade of the 'Palace of the Republic' where Hitler had worked. Now it sits abandoned and is hotly debated wether it should be knocked down or what to do with it. Apparently it's walls still house a different insidious danger, in the form of toxic asbestos.
So from here I strolled east, through Brandenburg Tor the critical point in the former wall, where east and west met through the gate that once was the centre of Berlin. Today I was fortunate enough to be able to walk through this contentious gate where one could not have thought of doing so only 6 years ago.
Then I walked on to see the remains of the wall and some of the old watchtowers now overgrown and derelict. I walked by the Reichstag built in 1894 and currently under restoration preparing to house the German government when it returns to Berlin from Bonn.
I visited a memorial to some of the people who died trying the cross the wall. Then walked to the 'Topograhie Des Terrors' an exhibition outlining some of the Nazi war crimes. It is located next to the former Gestapo/Secret Police headquarters.
And I walked on to Checkpoint Charlie to visit the museum which showed some of the escape methods used to get from East to West.
I found it a very interesting and emotionally moving exhibition.
In the remaining time today I visited the 'Kaiser-Wilhelm' church, or what remains of it after it's bombing in World War II.
I also spent some time just walking around Berlin and savouring it's atmosphere.
There is an amazing amount of construction going on in East Berlin, in an effort to improve the infrastructure to the same level as former West Berlin.
The skyline is a panorama of cranes!
Another interesting feature is the massive void of land, running through the middle of the city due to the walls former presence. I find it amazing that the German people have been able to overcome the wall after 28 years of it's oppression and division, to reunite as one people.

It is an outstanding human achievement and should be highly commended.
I find it an absolutely amazing testament to the German people.
9th September 1997
Berlin, Germany 1415
I am sitting in the Busbahnhof (Bus Station) now waiting for the bus to Copenhagen, an short 8 hour journey away.
On my way here I saw a supermarket, so I stopped in to pick up some food for the journey and found it surprisingly cheap! I bought a cake, 3 drinks and a chocolate dessert for about A$4. Bottles of wine of dubious quality (I assume) were only A$1 and bottles of vodka A$5!!!!

What a disappointment I couldn't carry any more with me!

Catch the bus & ferry to Denmark with me

Click here to travel to southern Germany with me later in my trip

This site and its contents are © Copyright 1998, 1999 Luke Doherty, After Dark WebDesign.
It may not be reproduced in total or in part without the written permission of the author.