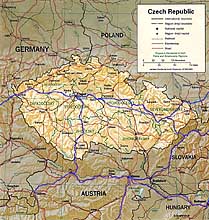 1st October 1997
Praha, Czech Republic 2330
I loved the food in Poland, it was great!!! and cheap, main course for $1. Yesterday Monica and I went to Wawel Castle, it is great and huge.
I am intrigued by the Polish language, whenever they have a 'W' it is pronounced like we would pronounce 'V'. So many words look very funny for me, eg. Wodka.

So last night I reserved a couchette on the train to Praha. I should have known what would eventuate. There were 3 other travellers in the same compartment and so a large amount of Czech liquor was devoured along with Vodka, Beer, etc. A great party was had! We ran out of beer at one stage and asked the conductor if we could run out at the next stop and buy some more beer (stupid idea!) but he didn't understand. We kept indicating we wanted more beer and then he took us to his compartment and sold us all of HIS beer!!!! What a great guy!
The train left Kraków at 2150, at 0200 I climbed into bed and slept like a log until 6am when we arrived in Praha.

Praha is beautiful, so many fantastic buildings and the castle is HUGE! I just wandered today. Tonight about 10 of us, all from the train, met up for dinner at a restaurant. It's so cheap and the food is good. I paid 65Kr for the main (A$3) and beer is about A50c for 500mL and it is really good beer too!!!

6th October 1997
Praha, Czech Republic 1500
Well. Praha can be bad for your body! We have been drinking so much beer, and last night we had some shoots of Absinth a 170 proof "liquid", that you caramelise by flame with sugar and then drink. The Czech Republic is the only country in the world where it is legal, due to it's poisonous qualities! So a few were had and a very late night ensued. We met a guy who had just found out he had passed his bar exam (the legal one), so more celebratory drinks!
In our drunken stupor 6 of us agreed to dye our hair different colours the following day, So off we are going to buy some dye.



7th October 1997
Praha, Czech Republic 2115
Well, I now have very blonde hair! Last night there were two free kegs of beer at our hostel, so another large night was had. I somehow found a guitar and played some tunes, a few people joined in and we sang along to Crowded House, t was alot of fun, but alas I had to climb into bed fairly early as I was wrecked.
I like it here. It is very relaxing. We have a little group of us that hang out together, we go to get breakfast and dinner together each day at a different Czech restaurant, it is a heap of fun & laughs, they are GREAT people.
Today we bought tickets to see 'No Doubt' tomorrow night here in Praha. Looking forward to that.



10th October 1997
Olomouc, Czech Republic 1230
Today I had breakfast with the gang then took black and white photos around Praha. Last night we saw 'No Doubt' the concert was wild and we managed to get very close to the front. Today we caught a train to Olomouc. I was supposed to meet Eva here yesterday but I was one day late and she had gone. Lesson to be learnt....be reliable. So we went for a look around town and then had a swim, which felt fantastic since I hadn't been swimming in over five months. Tonight we went to a bar.


This site and its contents are © Copyright 1998, 1999 Luke Doherty, After Dark WebDesign.
It may not be reproduced in total or in part without the written permission of the author.