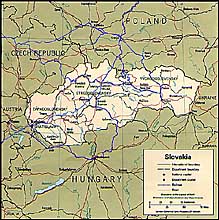 10th October 1997
Zilina, Slovakia 2230
We travelled to the station in Olomouc this morning, Graham and I. Then I went on to Zilina, Graham to Kraków. It took me three and a half hours to get here from Olomouc. It's a nice town at the base of the Tatra Mountains, the highest alpine range in Eastern Europe.
I have a hotel with breakfast and I had a great dinner with drinks tonight in the hotel restaurant. I am hoping to do some hiking the the mountains here during the next few days.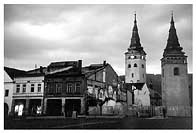 11th October 1997
Zamkovského Chata, Vysoké Tatry, Slovakia 2350
Today I caught another train to Poprad, and then a narrow gauge train to Stary Smokovec at the very base of the High Tatra mountains. From Stary I caught a Funicular to Hebrienok. (So many different form of transport in 1 day!!!)
And then the fun began........
I began my 4 day trek through the Alps by climbing to a chata at 1500M, a modest effort considering I still have my pack full of completely useless Alpine clothes like a nice business shirt and tie!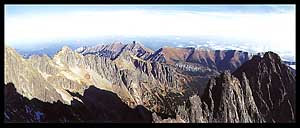 Anyway, when I arrived at the chata, I was given an extremely warm welcome, fed and given a nice warm bed for the night. It was a balmy 0°C outside. Nothing really, compared to what was ahead.
So that night I was the centre of attention in the chata as people couldn't believe an Australian would come to Slovakia. There was one other English speaker (a Slovak) in the chata and she was doing all the interpreting for about 8 people who were shooting questions at me!!!! Later a guitar appeared and again I found myself playing to a small crowd, and so then drinks magically appeared, and I wallowed in the Slovaks kind hospitality. (They were forcing drinks down my throat!! All sorts of bizarre, harsh liquids. And something made from Plums)

In the morning I arose to find it snowing very lightly (It was melting before it hit the ground). Breakfast was cooked for me and I set off to find the next chata up the trail.
All of these chatas are completely isolated, all supplies are bought in by sherpas, because the trail is so steep!!!!! Which made me feel terribly bad about the great meals they were cooking me, knowing that some poor guy had been paid about 10 cents per kilo to carry all these provisions up there!!!!

So I set out with the snow falling, which looked so nice.....for a while.
After walking for about half an hour, the snow was staying on the ground and was getting about ankle deep, after another forty minutes it was knee deep and I realised how unprepared I was for this weather, wearing my jeans, and without any gloves or serious jacket. (I had at least bought a beanie!!)
It was so cold, as I approached the altitude of 2000M, I was really having difficulty climbing. I couldn't see, due to the blizzard and the wind was wild, almost to the point of blowing me off the mountain. I was unsure of what to do next as I couldn't read my map and compass anymore and the trail markers were now buried under the fresh snow.
When I took my hands out of my pockets they felt as if they were burning, like being under hot water, but the problem was I couldn't take them out of what felt like boiling water, because it was all around me! The temp was apparently minus 18°C, I found out later, but with the wind chill, who knows what it really was.

I was lost.

Wondering what I should do. I couldn't see anything, I had lost the trail and there was no shelter anywhere. I was looking for some sort of refuge behind a rock and as a break appeared in the blizzard I found myself standing about 50M from the chata! I was absolutely ecstatic!!!!! Went in, dried my wet clothes and had a bowl of soup. It felt like a paradise island. I lapped it up while I could because unfortunately without any equipment and couldn't proceed to the next chata. To do so would have been immensely foolish or even suicidal.
I was forced to turn back to my base chata as the weather was so fierce.
The climb down wasn't so bad except for the depth of the snow and the slipperiness of the ice on the rocks.

But for all the pain, I have one of the most amazing and memorable experiences of my life. The beauty of the area was simply unbelievable, with huge mountains towering over me and glacial lakes around every bend, with the most gorgeous waterfalls from them. I will never forget it.

So the following day after another night at my base chata, Zamkovského, I took another walk to Skalnate Pleso, at a lower altitude this time. Again the sky was clear and then in about 45 seconds the visibility became zero. So once again I had snow to deal with, but it was much more pleasant, not painful! I cannot believe how extreme these mountains are, even I can't believe I climbed some of them!!! and how quickly the weather can change, good or bad, but usually bad!

The next day I hiked back to Hrbienok, and to Stary Smokovec for the night. I kept meeting people who were simply astounded that I have come to Slovakia, and they are so warm and friendly.
One of the men I met on the trail stopped to talk with me. He had learnt English from his school children who had learnt it in class. Admittedly he didn't speak excellently, but his dedication amazed me. That he had persevered at learning this language with such small resources. If only we in English speaking nations would work so hard at learning a second (or 3rd!) language.
Click here to travel on to Hungary with me
Click here to travel on with me on my second trip to Poland
This site and its contents are © Copyright 1998, 1999 Luke Doherty, After Dark WebDesign.
It may not be reproduced in total or in part without the written permission of the author.