Turkmenabat – Mary
17th August 2014      36'C      249km
Turkmenabat – Mary
It was a hot ride today.  Hot & boring.
Riding along a flat, boring road, very low sand dunes on each side as I passed though the desert.  I was still tired from arriving all late last night after all the border dramas.  And in the heat, I was starting to doze off.  I wanted to stop somewhere for a sleep, but being a desert, there was no shade to speak of anywhere.  Finally I spotted an abandoned building by the side of the road, and it cast just enough shadow for me to park behind for some rest.   I put the bike on the stand, stuffed my jacket on top of the bags as a pillow, and put my feet up on the bars.  It is a surprisingly comfortable position to rest in, although doesn't look that cosy.
I was just about to close my eyes when a guy appeared, admired the bike briefly, then proceeded to start massaging my neck and shoulders!  Completely bizarre, but he was not bad. When he had done my shoulders, he began on my thighs, that's when I told him "thanks, it's good, but enough, I'll sleep now".    He stepped away, and stood about 2M away, watching me.  It was strangest thing.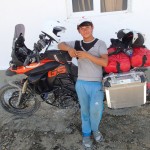 I closed my eyes and waited to hear his footsteps on the stones, hopefully walking away.  Five minutes later he did so, and I fell asleep.  I woke up in a shock when my leg fell off the bars.  Refreshed, I left my 2M of shade and headed back out onto the boring, but good road.
This morning outside the hotel, I'd met a group of three travellers on the Mongol Rally.  I'd changed my remaining Uzbek Som with them, counting out the millions on the steps of the hotel.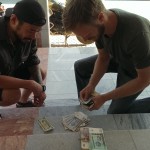 They had warned me that this road I was traveling on was in terrible condition, the worst road they had experienced. From my perspective, this was a road in great condition! Boring, but reasonable.  I feel for them, they are in for a shock as they go further East.
Stopping for petrol, and filled the tank, 14L for $3. Turkmenistan oil reserves mean petrol is the cheapest I've ever bought anywhere.
I pulled into the city of Mary at around 3pm, riding past the crazy new buildings that exist in every Turkmen city. Monuments to the mental dictator president of Turkmenistan. His picture is on every building, in Army fatigues, or posing. Sometimes clearly Photoshopped.  It's a bizarre place.
There is no Internet in Turkmenistan, presumably because if the people knew what was outside, they might not like knowing what they would find out about their country.
That said, even the most crazy countries with paranoid and confused leaders, still have normal citizens.  All day, Turkmeni would beep their horns and wave. Sometimes a little reserved when meeting on the street, but warm & friendly.