Taldykorgan – Almaty
18th July 2014         22-30'C          305km
Taldykorgan – Almaty
After an excellent breakfast, I proceeded to checkout from the hotel, much to their disappointment.  Yesterday, when I needed a letter from the hotel to register my Kazakh visa, I had them prepare a letter that stated I was staying at the hotel for the next two weeks.   They had assumed that had also meant that I would actually stay there for two weeks.
So when I checked out after one night, there was some disappointment. My concern was that they immediately called the OVIR office and told them that I was leaving Taldykorgan.  I don't know if this is going to be a problem later, but I guess I will find out when I try to leave Kazakhstan.  I have the required registration stamp on my immigration card, so hopefully they don't care that I am not staying in one place.
I rode off down the road while the receptionist was still on the phone with the immigration office.
Soon after leaving Taldykorgan, the massive snow capped mountain range of the Alatau mountains.
The road was moderately better than the previous two days, although there were plenty of roadworks.   I had just reached another section of roadwork, and crested a hill, riding on dirt when I saw the police car by the side of the road.  There was one cop standing beside the car holding a radar gun and as I got close he waved his red baton to signal me to stop.  The way he waved it didn't really seem all that serious.  To me it seemed that he wasn't really sure if he wanted to pull me over.
I stopped in front of him and he extended his hand and said "Assalamu aleykum, documenty!"
I slowly got off the bike and took out my passport, but he wasn't interested in seeing it.  He pointed to the cop car and indicated I should get in the front passenger seat.  I got in and handed my passport to the cop in the drivers seat. In the rear seat was a larger cop with a huge grey moustache.
The cop looked over my passport and said "American"  I corrected him and said "Nahh mate, Australian!"
He pointed to a form, that I guessed was a speeding ticket, and made out like this was all very serious.
I asked how fast I was going, and they pulled up the image on the radar gun to show me.  The radar said 61km/h, which was possible, although seemed a little high, as the road was pretty bad and it was dirt, I would have thought I was doing about 45km/h.   He wrote down that the speed limit was 30km/h, but the last sign that I saw was a 50km/h.
Either way, I was doing more than 30kmh and he had some sort of evidence that shows me doing 61, so I figured we were going to need to work something out.
He pointed at the form again and indicated I should show what I had to offer.   I just shrugged and said "Sorry, I don't understand"
He flipped the form over and wrote on the back "$100"   To which I just laughed and told him that wasn't going to happen.   He gestured to me, indicating I should make my offer.   I wrote down "500 Tehge"  ($3)  to which he added another zero, to make it 5000 tehge ($120)    I lauged again, and played like I had all the time in the world to stuff about.  I sat there for a few minutes while he got frustrated, then I got up, walked over to the bike, had a drink of water and took off my jacket, to try and show them I didn't mind waiting.   Just at that moment, a car that I had overtaken earlier drove past, beeping their horn and waving at me like I was a good friend.  I smiled and waved back.   I think this sent a message to the cops that I had other people looking out for me.
I got back in the cop car and the cop indicated I should make an offer.  I pointed at the 500 tenge again, and he finally said "OK"   I went to pull the note from my pocket, but I didn't have any small notes!   So I had to hand over 1000 tenge ($6)   and with that, all three cops were suddenly all smiles and extended there hands. We all shook hands and I got out of the car.
I took my time putting my gear back on, which frustrated the cops, who kept saying "Davai! Davai!". "Go! Go!".
I told them, "you stopped me, you got your money, I'll take as long as I like, thanks"
I started the bike and was ready to leave, and managed to get a quick photo of these dodgy cops as I sped off.
The traffic got heavy on the outskirts of Almaty, and I was sweating working through the cars, finally reaching MyTownMotos, where I bought some oil from the lovely Larissa & Boris, the head mechanic.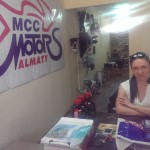 Just around the corner from MyTownMotos, was the Tajikistan consulate, so I stopped in there, dropping off my passport and application for visa and GBAO permit. The very kind & happy guy at the consulate made a few jokes and told me to come back on Monday to collect the passport. One of the easiest visa applications to date.
I'm now settled in at the Holiday Inn Almaty, enjoying a bit of luxury for a few days while doing maintenance on the bike. It's nice to be back under a hot shower and a big comfortable bed.