Jinghong – Puer – Ninger
8th May 2014     16-23'C       246km
The team of four headed out for an early breakfast of streetside noodles, that were delicious, before hitting the road. We rode 25 minutes before we reached a toll gate, and were told, no entry for bikes, turn around. So around we turned, and were stopped by the army, all young guys with guns, who just stared at us for a few moments before waving us on.
It then started to rain heavily, we were up in the mountains at around 1300M, and the temperature was 16'C, so it was on with the rain gear. While stopped putting on the wet weather gear, we lost the guide vehicle, and ended up waiting under a tree.
Once regrouped we found the right back road, and were on the way to Puer, passing through misty hills covered in the famous Puer tea plants.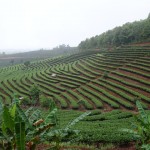 A quick rice lunch in Puer, and rode onto the small town of Ninger. Walking around Ninger has been interesting, I'm guessing not alot of tourists come here. People just stare at me, until I pop out a 'Nihao!' Then they usually break into a big smile, but continue to stare. It's been quite fun to watch the responses, sometimes they'll even respond with "hello!" And then crack up laughing.
The scenery today has been a marked change from the past weeks, with cool temperatures and rainy mountains. Traffic has been ok, with a few exceptions, the usual drivers lacking awareness of their surroundings.