Almaty – Karakol (Kyrgyzstan)
25th July 2014       28-32'C        421km
Almaty – Karakol (Kyrgyzstan)
I'd become very well settled in at the Holiday Inn Almaty, a king size bed, fluffy white towels and a quiet room; meant that I'd become accustomed to such luxuries over the past week.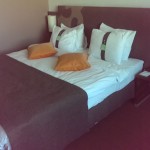 Almaty is such a really nice city, with a picture perfect mountain backdrop, great parks and excellent restaurants, cafes and bars.  The good friends I had formed in the city only further reinforced the desire to stay, which was why I'd spent 5 more days than I had originally planned in the city.
I finally packed the bike, and hit the road at 1130am, headed for Chayrn Canyon, 180km east.
The canyon was magnificent, stone carved by weather and river, leaving soaring cliffs, pinnacles and carved rock in many colours.  I'd considered camping here, but it was hot and it was still early, so I pushed on to the border with Kyrgyzstan.
The border was very quiet, just a couple from Basque, cycling, arriving after me.  Kazakhstan customs paperwork was completed in 10 minutes, and I moved onto immigration, where "Gangnam Style" was playing in the office, volume on 11.  A few minutes paperwork there, and I was asked if I was exporting any 'pistols, drugs or weapons' before being waved into Kyrgyzstan.  No mans land was only 10M, and on the Kyrgyz side, customs took 10 minutes to compete, immigration about 2 minutes.
A nice, easy border crossing, both sides with smiling guards.
Immediately in Kyrgyzstan, the roads were shocking, at least near the border. Deep pebbles worked like marbles, and I nearly had a very big get off when I hit a deep patch of marbles at about 80kmh, slewing sideways down the road.  The scenery had also changed, within a few km of the border, everything was green, pine trees covering the hills and snowy mountain peaks in the distance. It was truly magnificent.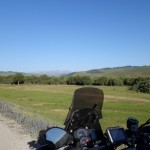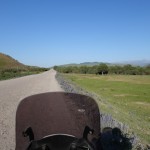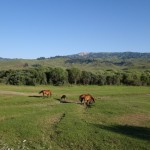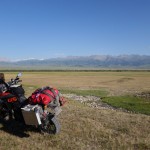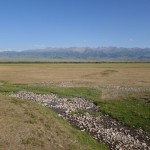 I rolled into Karakol at 830pm, the last hour I'd been riding with the setting sun shining directly into my eyes.
Tired and thirty, I checked into the first very basic, ex Soviet hotel I saw.  400 som ($8) for a room with a shared toilet and shower.
After a quick dinner at the nearby shashlik cafe, I showered and crashed out.  Knackered.