New photos have been posted in the gallery from weekend skiing in Karuizawa, Nagano – Japan.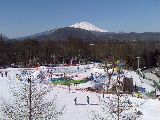 We set out from Tokyo central station early on a Saturday morning (after a late & loud Friday experiencing the nightlife of Tokyo)
A rapid breakfast before jumping on the shinkansen (bullet train) to Karuizawa, which does indeed move like a bullet. FAST. Along the way we caught sight of Mt. Fuji in the distance, the perfect symmetry of Fuji-san made for a magnificant backdrop to our journey.
After a full day skiing, we headed to the nearby onsen, for a scorching hot soak in an outdoor bath, surround by snow. It was perfect, all the muscle aches soothed away
from the spring water.
4 comments
4 Responses to "Karuizawa Photos – Ski Weekend"