Set out from the beautiful camp by the Snowy River, and a few km down the road to see Mckillops Bridge. Massive bridge in the middle of the bush.
Made brief stops at Little River to view the gorge, and proceeded to ride out of the valley. A very big climb on dirt, with no guardrail and a drop of a few 100M, meant no mistakes today.
The views were absolutely stunning, looking down at the Snowy River in the bottom of the valley.
Once out of the high country, the road into Jindabyne opened up, and the riding was great.
Refueled bike and body in Jindabyne, and then rode onto Lake Eucumbene, at Buckenderra. A great camp, between the granite boulders, looking out over the lake. Tonight a thick mist has descended over the mountain and through the camp and lake. It is quite a sight.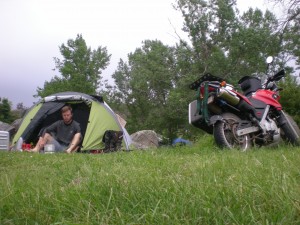 No comments