I didn't get much sleep last night, with the bogans playing death metal until 1am, (just to make a point)
But in the morning I woke and took the bike to Morwell BMW, where it was booked in for a service. The guys there were excellent, even giving the bike a good wash, so it looks a million bucks again


So after picking up the bike and packing up my tent, it was almost 3pm and it had turned into a really hot day. Really hot! The hottest I've felt on this trip, probably due to the humidity.
So made tracks through Sale & Bairnsdale, picking up supplies.
Craig from Morwell BMW had recommended Jacksons Crossing in the Snowy as a great place to camp and a good ride to get there.
But I had a substandard map, and got lost on the way, instead turning down what I now know is the New Guinea Track. The ride was through beautiful mountain country, but the descent down the dirt track was pretty hard core, very steep snd very slippery rocks. And at one point after a rapid descent that I just couldn't slow the bike down due to gravity, she decided to have a lay down. I managed to control it, so it was more of a gentle resting on the panniers. A few small dents and some scratches. Took a photo and picked it back up relativity easily due to the slope. At this stage I was still thinking it would all be worth it when I reach this magnificent camp on the river, but I was on the wrong track. And when I reached the bottom, there was no direct access to the Snowy river, but s steep walk down 300m to the edge. I did this to see if I could get the bike down there. I couldn't.
After climbing back up in the heat, I wasn't feeling so good, and coughed and threw up the water I had been drinking. Probably heat exhaustion.
I rested for a bit and decided that riding out tonight wasn't going to happen, as it was 7:30pm already and sunset approaching. So I setup camp here, in the middle of nowhere. It is completely silent of human noise, but plenty of animal sound, which changes every hour. First it was cicadas, then crickets at sunset, and now the noises I don't even recognise at all.
I had a bucket wash and cooked dinner, now I'm ready to sleep, before the challenges of climbing out of here tomorrow. If it rains, I have no chance and will be here until it dries up. It is just too steep.
So starting the new year from a new and unknown location.
There is no moon tonight, and the stars are amazing. So many and so close. The milky way is right there, could touch it.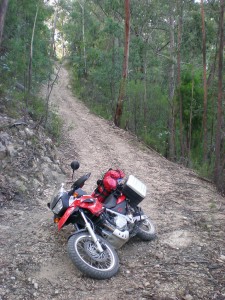 No comments