After leaving Canunda and riding into Mt Gambier, took a look at the renowned Blue Lake and had breakfast.
Then rode onto the border, and took a side road through cultivated pine forest and into Princess Margaret caves. Some great sights underground for a change.
The bulk of today's ride was through some beautiful countryside. In some ways reminded me of the west coast of Ireland, the combined smell of the sea and the country, cows & grass.
Although had plenty of wind again too, infact for a stretch it seemed as though the entire enviroment had been pushed sideways by the incessant wind off the Southern Ocean. Trees, buildings, fences, powerpoles, all leaning away from the breeze. Shaped that way over time.
Onto the Great Ocean Road, and the magnificent clifftop scenery that is so iconic of the region.
Tonight camped in Princetown, by the river on the hill. Lots of bugs, but soft green grass.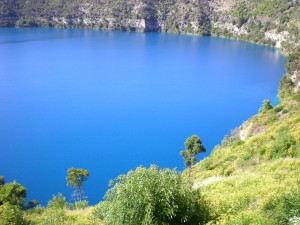 No comments