Left Wilpena nice and early in the cool, and had to dodge numerous kangaroos who were playing chicken with the bike.
Riding into the Clare Valley, the grasshopper pelting began again and I was covered again. Plastered with the little foul smelling jumpers.
This time there were many direct hits, and they really sting when they hit the chest or even worse the neck.
They mostly eased off by the time I reached Murray Bridge, but the temperature had dropped significantly and I had to stop to put on thermals. It was cold! The heated grips also were put to use, even on the highest setting!
The tempurature was a massive change from the hot desert days & nights, and I'm not really prepared for these sort of temperatures.
Tonight in Meningie sees me camped by the lake, but it's very windy and cold. I'm in the sleeping bag for the first time since leaving Sydney.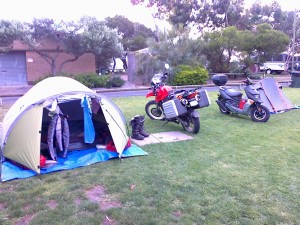 No comments